ALICE CARROLL LIDDELL !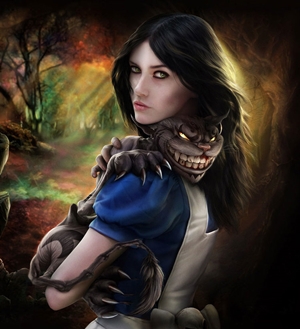 | CANON | HUMAN | NEUTRAL GOOD |

| basics |
nicknames;;
age;; 18
sexuality;; Bicurious
marital status;; Single though with a crush on the Mad Hatter
home world;; (either England or Wonderland)
occupation;;
group;;
| appearance |
height;; 1.61 m
hair color;; Black
eye color;; Green
tattoos;; None at the moment
defining characteristic(s);; Always wears a silver necklace with the symbol for Omega on it, and always has the Vorpal Sword with her.
clothing style;; Though she changes her dresses depending on her mood, her most recognizable outfit is a blue knee-length dress with short puffy sleeves, worn with a white pinafore over the top which has the the astronomical signs of Eris and Jupiter sewn onto the pockets of the apron. Along with the dress she wears knee-high black boots, and a pair of high-thigh black and white striped stockings, along with a blue-and-white garter on her right thigh (in which she attaches her Vorpal Sword when not using it).
face claim;; Amy Lee

| the fallen angel |
personality;;
likes;; Rabbits, reading, riddles, roses, cats
dislikes;; Spiders, fire
illnesses;; Schizophrenia
skills and talents;;
family members;; (parents, siblings, aunts, uncles, grandparents, adoptive family etc.)
other important figures;; (best friends, mentors, etc.)
personality;;
history;;here

| behind the fallen angel |
alias;; Calypso
other characters;; None yet
how you found us;; I created the site along with McKenzie
contact information;; PM
| credits |
this app was made entirely by Calypso; quotes from Lewis Carroll's "Alice In Wonderland". Do not steal or take this credit off.